In June 2018, FMDQ OTC Securities Exchange ("FMDQ" or the "Exchange"), Financial Sector Deepening (FSD) Africa, and Climate Bonds Initiatives (CBI) – together known as the Partners – collaboratively launched the Nigerian Green Bond Market Development Programme (the "Programme"), with key objectives including, but not limited to, the development of green bonds as an investible capital markets instrument, development of local verifiers and support for demonstration issuances, etc. A key takeaway from the Programme Launch in June was the call for capacity development/training across the entire financial markets' ecosystem.
In line with achieving these objectives, the Partners hosted the capital markets media practitioners, through its umbrella association, Capital Markets Correspondents Association of Nigeria ("CAMCAN"), – partners to the financial market development agenda – to an interactive Media Engagement Workshop (the "Workshop") to demystify the concept of green bonds and its general applicability in the Nigerian financial markets.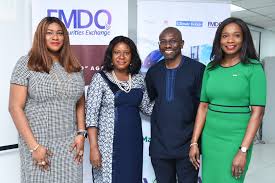 The Workshop essentially focused on providing awareness and empowering the media practitioners and financial markets correspondents on the impact of climate change vis-à-vis the urgent need for sustainable financing for the Nigerian economy; and to demystify the economic opportunities offered with issuing green bonds, among others.
In addition to building capacity around this globally important discourse, the Workshop provided technical know-how towards improving the reporting of future developments in this regard by the participants, and is the first of a series of sessions within the Programme to boost the understanding and appreciation of green bonds across the financial markets value chain, including market stakeholders and policy makers.